Small Bouncy Castle Hire Perth
29 Options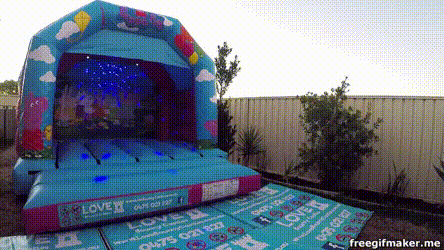 Half Day Or Full Day Hire Available
70 themed bouncy castles for hire. Trolls, smurfs, disney, superman, dinosaurs, minions etc. The list is endless. Free disco ball & bluetooth speaker hire. Bubble machine and smoke machine for hire too. We service all of Perth. Only $50 to book and reserve your bouncy castle or slide. These small themed bouncy castles are perfect for yard parties.
Which Bouncy Castles Are Best For Toddlers ?
For toddlers you really only need a small bouncy castle. The toddlers will enjoy themselves just as much as being on a large bouncy castle. We offer 26 different themed bouncy castles that are suitable for children and toddlers. Our bouncy castles have an open front with a large inflatable step that makes easy access for children and adults that might be assisting. Open fronted castles are great for toddlers and children that are being supervised. Adults can see the children at all times when they are having fun on the castles. All our bouncy castles have a rain covers / sun shields to help protect your toddlers and children from the elements. We still advise all customers to wear sun scream at all times.
Being able to see your children when they are on the bouncy castle is very important for safety. These open fronted castles we hire out are perfect for children to bounce and play while offering the parents the piece of mind that the toddlers are visible at all times. For extra safety we also provide you with extra safety matts that go around the inflatable step to give you extra protection when entering or exiting the castle. These extra matts are even more important when the bouncy castle has been set up on a hard surface like pavers, concrete or bitumen. We do also offer large castles and castles with slides. If you have a mixed age group for your toddlers birthday party you might want to look at our themed bouncy castles combo's which feature a slide. If all the children are 3 years or under then we suggest a small themed bouncy castle will do the job. To make your children's birthday super special all our bouncy castles come with a built in disco ball and blue tooth speaker which we supply FREE. All you need to do is pair your phone or Ipad etc via blue tooth and then play your toddlers favourite music weather its Thomas The Tank Engine, "toot toot, chugga chugga, big red car or just some general chart music that you have on your phone. The toddlers and children will love dancing and bouncing under the disco lights. How do we know ? we have young children too :)
Did I mention all our bouncy castles have a rain cover / sun shade to help protect your kids and guests from the elements.
BOOK NOW, MESSAGE US BELOW